Bins - Desk Cube
This Desk Cube, lined with a compostable liner, is small but proven to be all that is needed to revolutionise waste collections within the office and business enviroment. Traditionally and for convenience every person in the work force with a desk has had an under desk rubbish bin with plastic liner. This has created a 100% captive collection of all waste with each item contaminating the other so no separation takes place. Most nights cleaners would come through your typical company and take the plastic liner will all the waste and stuff it into a larger plastic bag, replacing with a fresh plastic liner. This system guarantees 100% of all waste and millions of near new plastic bags, would be sent to landfill every other day, sealed within multiple plastic bags to remain forever as a toxic legacy.
Nature generates waste too… but the waste from one ecosystem is the raw material for another… so in reality Nature has no waste.
Comparing these two systems gives room for improvement. Remove the under desk rubbish bin entirely and replace with the Desk Cube lined with a compostable liner. This is all that is needed as a holder for those messy items like coffee spills, apple core, gum, tissue etc. The Desk along with any other waste items like paper and drink bottle are simply carried to a central waste separation centre for sorting. Typically these centers would have four waste streams. 1) Recycling of paper and cardboard. 2) Recycling of other. 3) Green waste and organics. 4) Landfill. All with only the foot print of one bin, if the Friendlypak 40 Litre Stackable bin systems is used. Also ideally in conjunction with the Friendlypak Cube and MaxAir or TallAir bins for the initial part of organic collection.
The Desk Cube can be branded and is small enough to fit in a draw or on a desk. The benefits of this relatively small change are significant. Diversion from landfill of 60% to 90% begins with the Desk Cube and MaxAir and is almost immediate, generating cost savings that usually more than cover the expenses. Staff usually plan their walk to the separation centre to coincide with something else so little if any extra time is taken. The extra exercise improves their health, wellbeing and work efficiency. Also staff moral rises because they can see the difference the changes make and their interaction with others improves… simple. A win-win for all, including our environment.
Specifications: Material; Recycled unbleached pre and post-consumer paper - supplied in a flat pack to be made up to 100 mm x 100 mm x 80 mm high.
Item dimensions
11 x 11 x 8cm high
Unit Quantity
1 per each/50 per pack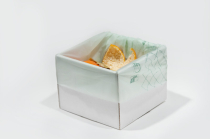 A Friendlypak Desk Cube, lined with this BioBag compostable liner, is all that is needed to revolutionise waste collections within the office and business environment. Manufactured from Mater-Bi; the first family of bioplastics that use vegetable components such as starch, cellulose and vegetable oils and biodegradable polymer and natural plasticizers, all crops used are non-food origin. Also some of these crops are grown to assist in remedial land recovery. To be more specific, the oils are from weed seeds grown on marginal wasteland in a European Union country and specifically no Palm oil. All grades are compostable and biodegradable during composting and include sustainable and renewable resources.
BioBag products reduce climate change gas emissions; CO2 is absorbed from the atmosphere and O2 generated during the growing phase, a positive contribution to the reduction of climate change emissions and the carbon footprint. Also saving the consumption of energy and non-renewable resources (petroleum) when compared to alternative products. BioBag's use raw materials of agricultural origin, creating products fit for purpose; these are then returned to the soil from where they came, completing a natural, virtuous cycle; referred to as Cradle to Cradle not Cradle to Grave.
BioBag's are certified compostable in home and commercial composts and may be placed in a green waste collection. The Mater-Bi material breaths so CO2, O2 and water vapour transmission rates are high making bags very suitable for keeping produce fresh, no sweating with food or skin contact applications. They maybe used for food contact applications with high resistance to fats, oils and acidic foods. Safe for animal feed like worm or pig farms, even sea creatures can digest BioBag's. The decomposition rate depends on bacterial activity, the temperature and the moisture level; in hot quality compost BioBag's will decompose much quicker than the international standards (180 days) with no polymeric or toxic residue.
The shelf life of BioBag products is approximately 1.5 years from the manufactured date, they will look the same after this period but will gradually loose strength as they biodegrade. As biodegradability depends on: 1) Temperature. 2) Moisture. 3) Microbiological activity and 4) Light exposure, it is best to store BioBag's in a cool, dry, dark place.
All BioBag products, including the inks or dyes, are fully independently certified to many international standards including European EN13432, American ASTM D6400 and AIB-Vincotte 'OK Home Compost'.
BioBag International and BioBag Production are audited by AIB-Vinçotte International and are ISO accredited according the requirements of EN ISO 9001: 2008 "Quality Management System" and EN ISO 14001: 2004 "Environmental Management System".
Unit Quantity
100 per Sleeve/40 per Carton